Dad Hotel booking
Booking rooms and suits, benefitting from variety of services and diverse tours
Ama Safar Travel agency, located in Dad Hotel, with professional staff, has more than 10 years of experience in holding and organizing intro tours, foreign tours, group tours, individual tours, hotel reservations, as well as Yazd tours, desert tourism and Safari.
Please fill in the form below for booking Dad Hotel by the best price. Our colleagues at Ama Safar agency will contact you as soon as possible. You can contact our colleagues to book your tickets and tours, arrange your airport shuttle, transfer in Yazd.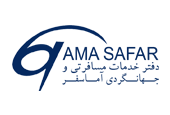 Yazd is a city in heart of the desert and a landmark in Persian history, its people all along lived with peace in spite of their variety of religions, customs and cultures for centuries now. With this tour you will get to know high valuable places for Muslims and Zoroastrians, understand the difficulty of living in desert, and realize the will power to change the environment.
On this tour you'll visit: Cemetery or Tower of Silence, Zoroastrian fire temple, Amir Chakhmagh Complex, historical urbans, Ziaeeyeh School (Alexandre's prison) and Dolat-abad garden.
Duration: 8hrs
Personal-tour services: Guide driver
Group-tours: Guide, transfer, snacks, entrance fee
Yazd the city of louvres, has always been interesting for businessmen and travelers both in Iran and abroad. This city has long been a base for heavenly religions followers and has embodied the manifestations of the most magnificent and luminous cultural heritage and ancient civilization of Iran's various historical periods. The historical urbans of Yazd with more than 6,500 acres of old texture, has been registered to UNESCO word and national heritage sites list. The ancient names of Yazd are "Isatitis" and "Kathe", and is also known as "Louvres City", "City of Bikes" and "Dar al-Ebadeh".
This walking-tour takes place in Yazd's historical streets, allies, Bazaars and covered passages. Walking under arches and allies will keep you so far from modern's life anxieties that you'll wish this tranquility would always stay this vibrant.
On this Walking-Tour We will visit: Cistern six-louvres, Amir Chakhmagh Collection, Water Museum, goldsmiths Bazzar, Charsough, Jami mosque
Duration: 4hrs
Tour Services: Guide, Entrance fee
After Arab invasion to Persia, Yazdguerd the third, the last Sassanid dynasty king, ordered to build a city in desert to refuge his family in it and protect them from harm. Check-Check Shrine is one of Zoroastrian pilgrimage sites attributed to one of his daughters, Nik Banu (Hayat Banu- Lady of Life). Maybod city is near this place and has a very picturesque and attractive urban architecture. Visiting Narin fortress will acquaint you with this aria's ancient civilization, and by glancing at buildings such as Glacier glue and Pigeon house tower you will understand the intelligence of the desert people.
On this tour you will visit: Check-Check or Pir-Sabz, beautiful city of Maybod including Narin fortress, Shah Abbasi inn, Glacier glue, Pigeon house tower, pottery and ceramic workshop
Duration: 8hrs
Personal-tour services: Guide driver
Group-tours: Guide, transfer, snacks, entrance fee
In this tour in addition to visiting Pir-Sabz shrine (Ckeck-Ckeck) and the monuments of Maybod, we invite you to behold of a dream-like village called Kharaegh. A village that is astonishing for photographers. The old village of Kharaegh is located 80km from Yazd, a Citadel in size of a village that is now vacant, but every visitor can't help admiring its architecture and natural attractions. It's a village with 4500 years old, great parts of it is remains from Sassanid era and has one of three vacillatory campaniles in Iran, located inside the citadel and its main mosque. Kharaegh tour includes visiting of the old Kharaegh bridge, its vacillatory campanile, historical Inn and the great citadel.
Duration: 8hrs
Personal-tour services: Guide driver
Group-tours: Guide, transfer, snacks, entrance fee
Visiting the desert camp and enjoying the desert nature by hiking, watching sunset and starry night sky, along with exciting sports such as safari, camel ride and motor racing, together with snacks, sitting by the fire, drinking coal-fire tea and dining, will bring you an unforgettable afternoon and evening. You can also be delighted by sightseeing of the amazing desert nature by the lake while riding off-road safari cars and experience a true safari.
Duration: 6hrs
Tour services: ask your tour guide
The city of Mahriz is located 25 km from south of Yazd, a city with great deal of history, in which the first clues of human life in Yazd area were found in form of stone paintings in its surrounding mountains. Visiting the historical village of Saryazd, the world's oldest safe deposit box that goes back to Sassanid era, is very memorable. At the same time, this city, like Yazd, has one of the nine Persian gardens in its heart, which is one of UNESCO World Heritage Sites. When we leave Mehriz, after 30 km on the way to Kerman, we'll arrive to the unique Inn of Zeynoddin, which is the only Persian inn with a circular blueprint and it's going to amaze you with its glamourous history.
Duration: 8hrs
Personal-tour services: Guide driver
Group-tours: Guide, transfer, snacks, entrance fee
The quiet Bafq desert, walking on sand dunes, camel riding and safari on demand, watching the beautiful desert sunset…. Sadegh Abad Bafq desert is one of the most beautiful and tranquil places. Ramley hills have created a spectacular view of this place. This astonishing desert is located 120km from Yazd city. Sadegh Abad desert now has a recreational camping where activities such as sand-hiking, camel riding, motor riding and desert hiking, takes place. Nothing is more beautiful than watching the desert sunset, don't miss out on this experience.
Duration: 8hrs
Personal-tour services: Guide driver, Camp entrance fee
Group-tours: Guide, transfer, insurance, snacks, camp entrance fee, camel riding, dinner
* Safari expenses are not included
According to the hotel reservation rules in Iran, checking-out takes time at 12pm and checking-in is from 2pm. Please have this in mind while purchasing your ticket, because Hotel has no obligations towards this matter.

Passengers will not be accepted at all if the valid identification is not provided to the hotel. Having The original birth certificate, national ID card or passport are the preconditions for the acceptance.

Acceptance of foreign guests is only possible by having the visa stamp and entrance stamp with an expiration date.

Women only can stay with their husbands, brother or father.

If guests intend to stay more hours in Hotel, by 6pm they are charged with 50% of a one-night stay, and if more they're charged with the full price.

If passenger arrives at the hotel before 2pm, hotel reservation rules in Iran will not guarantee the room check-in prior to 2pm.

Hotel has no responsibility towards the room view.

Islamic accommodation and dress-code is essential for all passengers.

Causing damage to the hotel or the hotel rooms, will be fined and investigated by hotel personnel.
After determining the numbers of nights requested and paying, the tracking ID (Hotel Voucher) is sent to the passenger. Receiving Voucher means Hotel reservation process in right.
Children under the age of 7 are free of charge in case of not using an extra bedding service.

If the number of guests is more than the number of passengers previously booked through the hotel website, the cost for each one is received separately.

According to Iran reservation rules, international credit cards are not acceptable. Contact Hotel if you wish to use international credit cards, otherwise, the website will have no obligation for your payments.
Contact Hotel for information.
Gallery
Images from your memories
Browse your dreams
Photos capture our beloved moments, they let us open a treasure box and browse through our memories, one by one. There are images filled with spirit of life, blazing our identity. Dad Hotel chest, is the best place to dream and review your memories. Here is Dad's treasure.
Virtual Tour
Imagine your residence
Experience Dad Hotel before your stay
Before choosing Dad Hotel and your residence, you can virtual visit the whole collection and imagine your stay. Our suggestion is to start from the central yard, enter the corridors and see the rooms closely. Do not forget the rooftop.
Special offers
Offers as Hot as Yazd
Tourism and affordable accommodation
The journey itself is full of fresh and hearty experiences. And it's going to be even better with our tempting offers. Dad hotel will give you special offers which undoubtably save you from trouble and will double the journey's pleasure.
Events
Historical celebrations
Don't forget the special dates
Persian and Yazdiculture and history are filled with celebrations and magnificent traditions, which together makes it more enjoyable. You can visit the events at on various occasions and exhibitions that are presented with interesting topics at the hotel.